'Tis the season for back-to-school.  Media articles, Facebook links, news segments, blog posts, how-tos, printable resources, and generally all things August/Septembery fill our news feeds and capture our attention with ways to make the start of the school year richer and easier.  As a homeschool mom, the desire to see how other people manage a school day that generally has very few standardized rules always leads me to the Information Superhighway.  It's a joy to be able to take a few sneak peeks into other family's lives without having to leave the house or put on makeup.  This isn't a homeschooling blog per se, but since it's a blog about my life (and since I have a lot of things on my to-do list that I don't want to do right now), I thought I would take the time to offer a brief glimpse into our homeschool world.  Also, I don't like to feel left out, and since everyone else is doin' it…
We are part-time homeschoolers, attending a co-op three days per week and schooling at home the other two (or other four, as some may see it).  My daughter Natalie is in Kindergarten and my son Aiden in 2nd grade, so this is my third year homeschooling and my first year officially homeschooling two.  Tuesday we had a particularly great day at home, so I thought I would use that as my model.  That way you can think I'm really awesome at this homeschooling thing.  If I were to blog about Thursday, I wouldn't be able to paint as lovely a picture, and the way I see it, I owe you high quality, so we'll just pretend every day is just like Tuesday, K?
First, I'll give you a tour of our space.  Our most gracious and glorious heavenly IKEA shelves (and a bookshelf from Jo-Ann's) contain most of our "educational" toys.  Board games, art supplies, science kit materials, puzzles, instruments, playing cards, manipulatives, building toys, a balance, a globe, an abacus, a cash register, and the arc du triomphe: a CD player.  With headphones.  Headphones are key to homeschool mom sanity.  Sometimes I even let the kids use them.  😉
I'm a huge fan of natural lighting, and our homeschool room has TONS of windows.  Nine, to be exact.  We keep our desks next to the windows to take advantage of all the beautiful sunlight (if you look carefully, you can see the morning sun coming up over the trees.  Glorious).  To the right of the desks is an easel I use to write down the kids' assignments and goals for the day, and to the left is our art gallery.  Nails. Wire. Clothespins.  Nothing fancy, but it works SO WELL.  On top of the tables is a roll of paper, crayons, a pencil sharpener, and a tin of erasers.  Hanging off the sides of the tables are little tin buckets containing pencils, markers, colored pencils, paint brushes, scissors, hole punches and glue sticks.
This wall has all kinds of visuals on it, which change according to our monthly needs.  In the center is this most fabulous interactive world map!  I bought it for my son for Christmas one year, and we have just loved it!  Above the map is an Eric Carle canvas of the alphabet, which I also think absolutely rocks.  Other things currently include a sight words chart (which is ugly, but it works for now), a glass frame with fancy paper in it that I use to display our monthly Bible verse (I just write on the frame with a dry erase marker), a poster of the Presidents, a poster of our solar system, and a motivational system (read: my bribery system…because I believe in bribery.  Getting kids to put their clothes on and brush their teeth in the morning should be an Olympic event, so the promise of ice cream in exchange for 25 days of being ready to start school on time has been a game-changer in my house.  Judge not lest).  In the bottom right is a Slugs & Bugs poster of Psalm 139.  On the floor is a basket of wooden blocks and a toy piano.  The piano gets a LOT of use.  They've learned how to play a few songs on it, so now they're challenging themselves to see how badly they can play them off key.  It's great fun.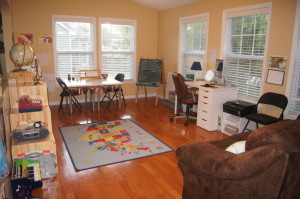 Here's the room in its entirety.  Note that we also have a desk with a desktop computer, a United States rug and a couch for use as a trampoline a soft place to relax.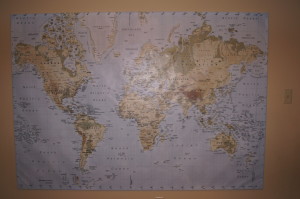 Just outside the homeschool room, we have this world map from IKEA hanging on a large wall.  We use this map all. of. the. time.  It's probably the focal point of our house, and whenever we have visitors, everyone flocks around it and shares their tales of where they've been or where they're headed.  I adore this map.  Best $150 we've ever spent.  Add a Nerf gun and some darts and you have one incredibly cool geography lesson.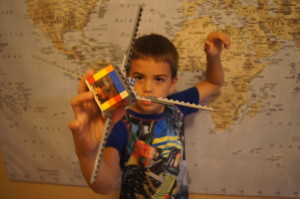 Now for our day.  We wake up in the morning and the kids get ready while I (usually) fix a hearty breakfast.  We try our best to eat healthy meals as much as possible, so breakfast at our house usually consists of whole milk yogurt parfaits with nutty granola and blueberries, bacon, sausage, smoothies, homemade biscuits and pancakes, or toast with almond butter and jelly, along with fruit and fresh juice.  Personally, I eat a lot of eggs, buy my husband and kids get sick of them fairly easily, so it's hit and miss with them.  While I fix breakfast the kids get dressed and make their beds.  Or they make X-wings out of Legos.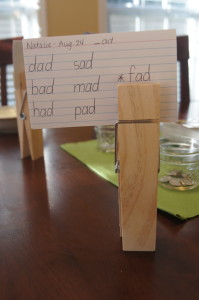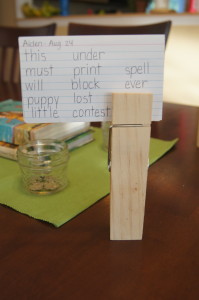 I bought these adorable oversized wooden clothespins at a craft store for $1.00 each, and I use them to display the kids' weekly spelling words.  I keep them on the dining room table so they can look at them whenever they're eating.  Since they eat 52 gazillion times per day, they get a lot of exposure to their words without me having to nag them about studying.  It's brilliant, if I do say so myself.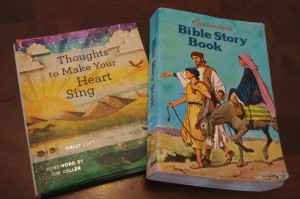 During breakfast and morning snack, we do a devotional and Bible story reading, respectively.  Sally Lloyd-Jones has the most beautiful devotional for little ones called Thoughts to Make Your Heart Sing.  Lemme tell ya, it makes my heart sing for sure.  So much joy and grace and truth in these small, bite-size passages.  An excellent way to start our morning.  The Bible we use is Egermeier's Bible Story Book.  What I love about this Bible is that it offers so much more than the basics of common children's Bible stories.  There's a lot of detail in each passage, but they're cautious about making sure their words and pictures are sensitive to little eyes and ears (for example, David's battle with Goliath leaves out the part where David cut off Goliath's head).  We also have The Jesus Storybook Bible, which is my absolute favorite children's Bible in the history of ever, but the kids also read that one at their co-op, so we've taken a break from it at home for now.
After breakfast and clean-up, we get our minds ready to learn by exercising.  Tuesday was an absolutely gorgeous August day, so we dashed outside to…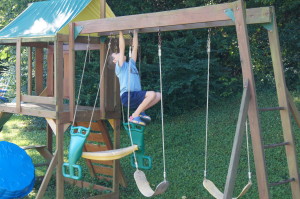 climb on the monkey bars…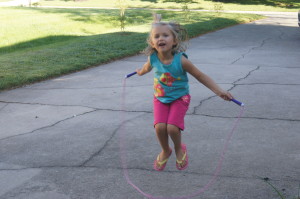 jump rope…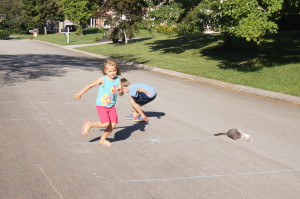 and run relays.
We mix up the exercise time weekly.  Sometimes we ride bicycles, sometimes we find workout videos on YouTube if it's raining, or sometimes we just find silly ways to move our bodies and dance.  An exercise trampoline is on my wish list to have for indoor movement during the day.  The need to move is especially key for my very energetic 7-year-old boy.  I'm a firm believer in the fact that movement stimulates the brain, so we try to always get our blood pumping before (and during) our lessons if we can.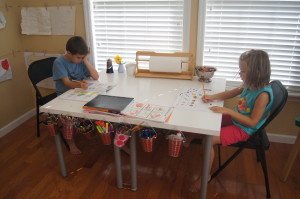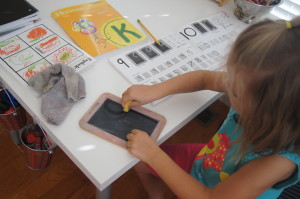 Speaking of lessons, we head inside to get our book work done after exercising while our minds are fresh and rested.  We spend about 30 minutes doing math, handwriting and phonics, and then we get up and move around again.  We try to do as little sitting as possible, and we break it up into manageable segments.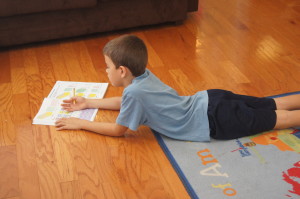 Or we just lie on the floor.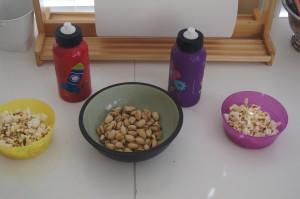 Food is essential to learning in this household.  Did I mention that my kids eat 52 gazillion times per day?  Rather than fight the battle all day long, I put a simple snack and water bottles on the table for them to munch on while they work; in this case, popcorn and pistachios.  This helps prevent distraction and procrastination by keeping the "But I'm huuuuuungry!"'s at bay.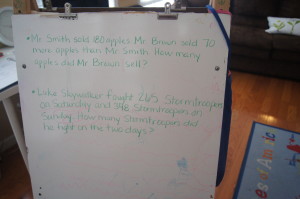 Aiden has a book he uses at home called Challenging Word Problems.  They really are quite challenging for his grade level, so we tackle them in small bites and for some reason, writing the problems on the dry erase board makes them seem less intimidating than reading them from the book.  It also helps to change the words around to appeal to his interests.  No one cares how many books Sam read on Saturday and Sunday, but figuring out how many Storm Troopers Luke Skywalker fought on Saturday and Sunday is a challenge worth taking on.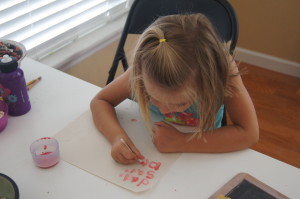 Writing practice is much more fun with paint and Q-tips!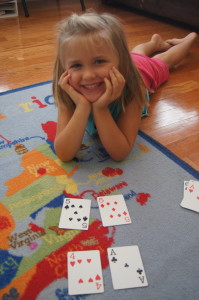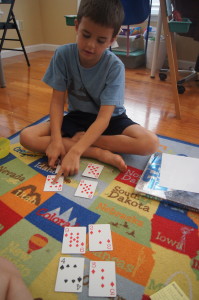 After we've been doing book work for a while, we stop and play a game.  Natalie's math book is especially easy for her right now, so rather than give her a more challenging workbook to do, we play math games instead.  On this particular day, we played a math game with playing cards.  Natalie and I played Addition War while Aiden and I had a slightly more complicated challenge.  We had to take four cards, figure out how to combine them to get the two highest double-digit numbers, then add them together.  Whoever got closest to 100 got all eight cards.  They both beat me almost every time.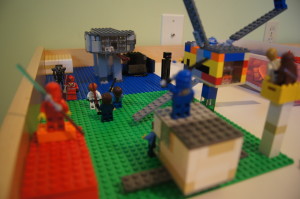 By the time we finish this, it's time for me to fix lunch, so I give the kids a challenging activity to work on with their hands while I'm in the kitchen.  This week they had Lego challenges.  On this day, they had to make a scene out of Legos that told a story.  Natalie had a difficult time with this, so she just made a box.  Aiden, however, reeeeeeally got into it and made a giant Star Wars battle, complete with AT-ATs, X-wings and tie-fighters.  He was enjoying himself so much, I had a hard time getting him to come eat lunch!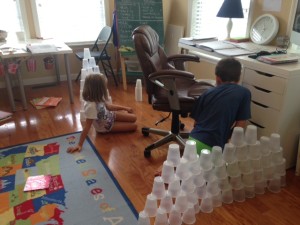 STEM Challenge: Who can build the tallest cup tower?
When we're not doing Lego challenges we're either doing art activities (I love artfulparent.com.  She has amazing self-directed art projects that are both stimulating and easy to throw together), STEM challenges, or creative writing work.  They (usually) love these tasks to keep their hands and brains busy while I'm unavailable to help them.  Aiden's not a big fan of writing, so he doesn't love the creative writing, but if I give him a Star Wars or Minecraft theme, he's more willing to go with it.  This is a pretty fun journal for boys, too.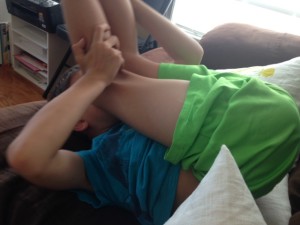 After lunch the kids go outside to play (or inside if the weather is uncooperative) while I clean up lunch and throw laundry in the dryer.  Then we read books and study science.  While I'm reading, the kids are either cuddled up next to me on the couch (as in the above picture), or they're on the floor playing with manipulatives, such as Tinker Toys, Magna-Tiles, or a sensory box.  When we do science, I either incorporate a science experiment, book, video and/or art activity to go along with whatever we're learning.  On Tuesday we were studying the Arctic, so we watched a video of the aurora borealis.  I was so excited to show them the video, thinking they would be mesmerized, but turns out they were already familiar with it, thanks to Octonauts.  Who says TV can't be educational?  Totally rained on my parade, but whatever.  Octonauts didn't teach them HOW it occurred, so I still had the upper hand in the teaching.  So there.
When science is over, we study a country, work on any classroom projects that are assigned, do individual reading, and/or call it a day and go play.  Our day lasts generally from 9:00-2:30ish, depending on how much extra-curricular work is required for their co-op.  The afternoon also offers us activities that we consider to be learning experiences, such as soccer practice, helping cook dinner, doing chores, and having read-aloud time with chapter books.  As most homeschoolers know, everything is a learning experience.
It's taken us some time (two full years to be exact) to figure out our daily rhythm on our homeschool days, but this seems to be working well for us.  It's not without struggles, but I don't expect perfection.  There are things I'd rather be doing than school work, too, to be honest.  But such is life.  As a rule, however, our days are flowing smoothly and we're enjoying ourselves.  Hands-on learning that's playful and fun is important to me.  I'm a big believer in the idea that anything can be fun if you put in a little extra effort, and the more fun it is, the more the learning sticks.  We're so thankful to be able to have the opportunity to do school this way.
What are some of your favorite techniques for making learning fun and your homeschool days flow smoothly?  I'd love for you to share them with me!  After all, we're all learning!