Editor's Note: This story originally appeared on my personal Facebook page in April, 2014.
15 years ago I was given a complete set of hand-me-down dishes from my dear friends, Alf and Margaret Beth.  They were a sweet gesture, one I was truly appreciative of.  But honestly, the dishes themselves weren't really all that fantastic.  They weren't exactly my style.  Some of them were even already chipped.  But I took them with much gratitude, thinking, "These will come in handy when I have kids, so that we can teach them to eat from "real" dishes instead of plastic ones, and we won't have to worry about them breaking our nice dishes."  (Jeremy and I were engaged at the time.)  Plus, I loved my friends and I appreciated their offer to a young couple just starting out.
We held onto them for nine years before we even had kids, then another five before we started actually using them.  They've been moved to seven different homes in three different cities across Tennessee.  Each time I see them I think of my friends and how much I love and miss them.  It wasn't until sometime early last year that we finally pulled them out of the storage closet for our kids to use.
When I first took them, I had no idea how much they would come to mean to me.  I haven't seen my friends in…I don't know…ten years?  But for 15 years, a part of them has lived somewhere in my home, and I've carried their memories with me all this time.  And because I love my friends, I've come to love those dishes as well.
Early this afternoon one of the plates broke.  The second from the set to meet its demise, actually.  Natalie came from the dining room table into the laundry room where I was, bottom lip quivering, trying not to cry.  But it had frightened her, and after a few seconds of trying hard, she could no longer hold it in.  As anyone who knows my daughter well will tell you, there's nothing more powerful than fear and embarrassment to make her sob deep, heaving sobs.  Knowing this, I did my best to comfort her quickly.
As I sat and held her and reassured her, I didn't get upset that one of the dishes I loved was broken.  Instead, I remembered its purpose.  I was thankful that we had chosen to tote around cheap, fragile dishes for 15 years.  I was thankful my little girl wasn't hurt.  As I cleaned up the mess, I was thankful for my friends, and I was compelled to pray for them.  I was also thankful for the reminder that such is the Body of Christ.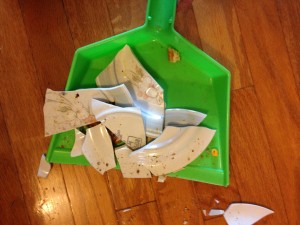 We are weak and fragile.  Easily broken.  We're all chipped in places.  Some of us aren't as fancy or as well-known as others.  But we have so much value to Him who loves us, who has carried us and called us His own since before the beginning of time.
And He made us, each and every one of us, for a unique purpose.  It may be simple.  It may be mundane.  It may be unworthy of worldly recognition.  We may spend our entire lives sitting in a dark drawer while others get the privilege of being displayed proudly in a glass cabinet.  But to the One who knows our names, our life is meaningful.  Our worth is invaluable.  His love for us is deep and profoundly significant.  Not because of who we are or what we do.  Not because of any value the world has placed on us.  But because of Him and what He has done for us.  Even to those of us who, like my dishes, are made to do nothing more than to provide a loaf of bread or a cup of cold water to a small child, we have been bought with a price.  And the value of that cannot be measured in human terms.
I love those dishes.  Perhaps now even moreso.