Thanksgiving this year was hard for me. It was hard for many of us in my community. My friend Laura passed away just four days earlier and was laid to rest on Wednesday. Laura lived two houses down from me, but she wasn't just my neighbor. To understand this, you have to understand Meadowood Lane, because most of the neighbors here aren't just neighbors. We are a community, a family, and over the past few months of working together to help care for Laura's husband and boys during her illness, I've come to see my sweet little neighborhood as a living, breathing testamony of how the Body of Christ is supposed to work. I've never been more proud to live anywhere.
Of all the people on Meadowood Lane, over the past five years, my family has come to know Laura and her husband Dan the best. Laura and I have spent many hours in each other's driveways, and I would often laugh at her during the winter months because she would come outside wearing an oversized sweatshirt and a nylon tennis skirt with no socks or shoes on her feet, just to chat. "Aren't you freezing?" I would ask. "Uh-huh!" she would laugh through gritted teeth. "Don't you want to go back inside?" "No, I'm okay!" she would say, and we'd stand outside talking until I was too cold to look at her anymore.
We've shared dinner together when both of our husbands were out of town, we ran into each other at Long's Drug Store one afternoon when both of us were taking our kids out on a date and shared the rest of our meals together. We introduced our kids to Willy Wonka together. Being a teacher, Laura had the summers off, so we spent many long, hot days playing with our kids, getting "accidentally" sprayed with the garden hose, eating picnic lunches in our driveway, and taking the kids blueberry picking. I always knew when it was Laura's turn to cook dinner at her house because somewhere around 5:00 my phone would ring, and it would be Laura calling to see if I had an essential ingredient that she needed for her meal but had forgotten about when she was at the store. We often laughed about me being her secondary grocery store.
The generosity of Laura's heart was something that always caught my attention. One year when we were just getting to know each other, Laura caught wind that it was my birthday, and she bought me a present…a pair of Halloween pajamas. At the time I thought this was a rather unusual gift to give someone you didn't know very well, but came to realize later what a sentiment of her heart this was. Laura loved Halloween and she loved…no, was obsessed with…pajamas. I never saw her dresser drawers, but to hear her tell it, she had more pairs of pajamas than Imelda Marcos had shoes. According to her husband, even before she died, one of her biggest frustrations was that the hospital wouldn't let her put on her pajamas.
If my kids were having a birthday, Laura brought them gifts. If my kids were sick, Laura brought them gifts. If I was having an especially bad day, Laura brought me gifts. When Jeremy turned 40, we came home from church to discover a poster mounted in front of our mailbox for the whole street to see, with a HUGE picture of Jeremy's face on it and two massive clip-art thumbs, with a caption that read, "What has two thumbs and turns 40 today?" And again, gifts.
Laura would often share stories with me about her students, and we would laugh together about the children she loved, and we would roll our eyes together when she told about the children who drove her batty. More than once we even cried together over the children whose lives tragically ended far too soon. We shared stories of how we met our husbands, and she giggled and made a point to call me out when she noticed I was blushing as I shared my story. We talked about our faith and our families, and the state of the American public school system. Her words were some of the ones I most heavily-weighed when deciding whether or not to homeschool my kids. With the exception of politics, which was a subject we didn't want to run the risk of disagreeing on, we talked often and about everything.
You see, Laura wasn't just my neighbor. She was my friend. She was a confidant. Her smiling face was one I always looked forward to seeing at the end of the day.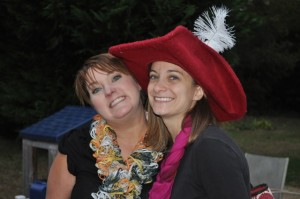 I have looked around during this holiday season and, while knowing that I have so very much to be thankful for, the gratitude is weighed down with sorrow. I've experienced an awful lot of death in my life, but not every death leaves a void. Laura's death has left a void, and it hurts. It hurts not only for me, but for her adoring husband and sweet, precious boys. The casualty of death isn't in the one who is gone, but in the ones who are left behind.
But as I've grieved this week, I've had some hard conversations with God. Little children should not bury their mothers. They just shouldn't. And it leaves me asking the questions. I've asked the questions before, but each time I find myself in this situation, the conversation feels brand new. "Why?" "Couldn't You have just…?" "Shouldn't it have gone this way?" "How do I explain…?" "What if…?" "Where are you?"
As I seek for the answers to the "whys" and "why nots" and "how-could-a-loving-Gods," my mind recalls the story of Digory. Digory is the main character in The Magician's Nephew, the 6th book of C.S. Lewis's Chronicles of Narnia. Toward the end of the book there is a scene where Digory is standing face-to-face with Aslan the lion, King and Creator of Narnia. Digory's mother is dying, and he knows that Aslan has the power to heal her. So in both boldness and timidity, with tears in his eyes, staring down at the massive paws of the great beast, he asks Aslan for something that will heal his mother. When he dared to look up, he saw that the lion's face was bent down low and close to his own, and tears were flowing down his mane.
Aslan was weeping for the grief that he knew was so great in this sweet boy's young heart. He was weeping, too, because he knew he had to give Digory the answer he didn't want to hear. Aslan knew the pain of grief. He knew that the consequence of the sin that had been brought to Narnia was great and tragic, and it brought him to tears.
Then I'm reminded of Jesus. When Jesus went to the home of his friend Lazarus, after hearing the news of his death, he looked around and saw Lazarus's sisters, Mary and Martha, hurt and angry. He saw the people grieving. And though Jesus knew he had the power to make all of the pain and sadness go away, he still was overcome by the brokenness of it all, and he buried his face in his hands and wept.
As I cry and ask why, I remember that we have a Chief Priest who sympathized with our weakness. We have a Creator who mourns over the destruction of His creation. We have a Friend who feels our hurt. But more than that, we have a God who promises to one day take all of this pain and sadness and sorrow and death and despair and to bring redemption and to make all things new. If I were God, I often think I wouldn't have allowed the opportunity to let sin enter our world in the first place. But as Andrew Peterson says, maybe it truly is a better thing to be more than merely innocent, but to be broken and redeemed.
Because of that, I will trust what my eyes cannot see and my mind cannot comprehend. I will put my faith in a God who can handle my questions and will cry with me through my pain. I will walk unwaveringly with this God who promises to one day heal and restore and bring redemption to this broken world. It won't take away our pain that is so great today, but to know that I can bury my face in Aslan's mane and feel his tears flow down his face onto my own…well, it's the warmest comfort I can imagine, and a gift I shall hold onto tightly. And when I forget again and become angry again and ask all the questions again and lose my way again, I know that He will be there again, and He will gently remind me again and He will guide be back to His warm embrace again. Because He's nothing if not big enough. And for that I am truly thankful.